Capstone is the new trim added by Toyota to its Tundra line, aiming to rival the most luxurious trucks. Some of the features of this new trim include leather seats, a 12-speaker audio system, 10-inch head-up display, and 22-inch wheels.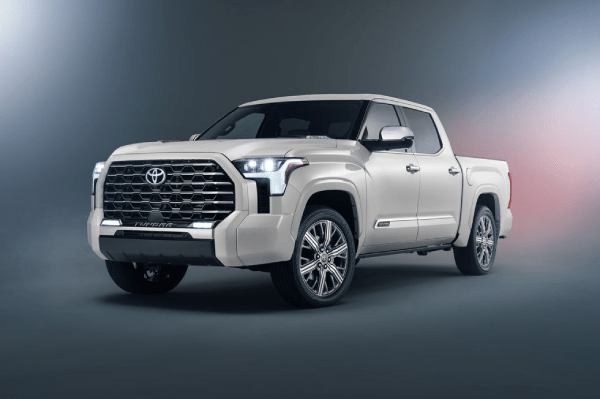 Buyers will be amazed by the look of the inside cabin, featuring a black-and-white interior, a huge panoramic sunroof, and a big 14-inch touch screen. Similar to the luxurious german executive cars, the Capstone trim will make sure the passengers will have a quiet experience while traveling, by having acoustic front doors glass.
The only limitation that might put some people off is the powertrain the Capstone comes with. This trim will only be available on the hybrid powertrain, which some people might not like. It uses a twin-turbo V6 producing 437 HP and 583 lb-ft of torque.
While not the best in its class when it comes to towing capacity, the 2022 Tundra Capstone will be able to tow up to 10,340 lbs, with a maximum payload of 1,488 lbs.
The Capstone is available only with the Tundra's hybrid powertrain, dubbed i-Force Max, which uses a twin-turbo V6 engine and produces 437 horsepower and 583 lb-ft of torque. Towing capacity on the new trim is 10,340 lbs, while payload tops out at 1,488 lbs.
The 2022 Toyota Tundra Capstone is expected to hit the dealerships later this year, around March-April. The company did not publish any prices for this model, but it is expected to hit the market with a price tag of over $70,000, considering that the lower Platinum trim with a gas powertrain starts from $61,685.