There's no direct answer to this question. The amount of time it takes to become a mechanic depends on your path to acquire experience for the job. On average, it'll take about 2 to 5 years to begin working as a mechanic on actual clients' automobiles.
You might not even need to train extra years after high school to become a mechanic. After high school, I didn't need to train extra years before working as a mechanic.
If you wish to become a mechanic, the time frame needed isn't all that matters. You need to be properly equipped with the necessary skills and be aware of your responsibilities as one. You might also want to keep in mind the dangers of being a mechanic. Let's start with who a mechanic is.
Who Is a Mechanic?
A mechanic is a professional who uses technical automotive skills and experience to discover and solve problems relating to automobiles.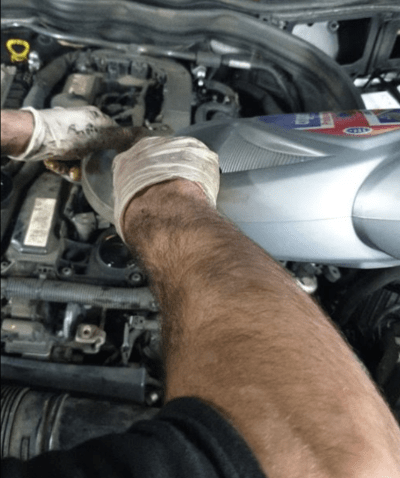 Mechanics generally train to work with vehicles of various kinds and specific car components such as the brakes, air conditioning, or transmission. You could train to work with regular cars or even with trucks or other complex machinery.
Mechanics tend to stand, bend over, kneel, squeeze into tight spaces for extended time frames; hence they must have the physical ability to do these.
What Are the Responsibilities of a Mechanic?
As a mechanic, there are specific responsibilities you must be able to take care of with efficiency.
You must operate equipment used to diagnose electrical or mechanical problems regarding the automobile you're working on. This is essential because without being able to carry this out, it is very unlikely for you to even work on the vehicle. You need to know what's wrong with the car before knowing what steps to take to fix it.
You should be able to perform routine maintenance on clients' vehicles. Clients do not only take their cars to the mechanic when it develops faults. They do so for regular maintenance to ensure the car doesn't need any preventive care and lengthen the vehicle's lifespan and components.
A mechanic should be able to gauge the safety of a specific repair. If a particular repair would damage other components of the car, it is sometimes safer to replace rather than repair.
You should be able to determine when a replacement is needed. The cost of a repair might even be higher than a replacement. A repair that might need constant retouches, in the long run, would be more expensive than a replacement.
A mechanic should discuss repair or replacement plans and costs with the client. Honestly, when I started working as a mechanic, I used to get nervous and practice over and over how to relay the plan to the client. With time, I realized having an organized record of what you intend to do and how much it would cost on paper makes it easier to give a clean estimate to the client.
So How Long Does It Take to Be a Mechanic?
As I said earlier, it takes about 2 to 5 years. Sometimes, it takes less. Depending on the amount of certification you desire to attain, you could take more years.
You might want to be a specialist or even gain advanced certifications in certain categories.
High School or GED
A high school diploma or GED is essential. Even if you intend to acquire the extra certifications, you should at least have one of them first.
A high school diploma along with necessary certificates given upon graduation might even be enough to start working as a mechanic after graduation.
I took vocational programs in high school, so I graduated with the needed certificate to begin working as a mechanic immediately after graduation. I even had the opportunity to work on real clients' cars during high school.
After high school, I could secure a job working as a mechanic without needing additional certifications.
Technical school
This is another good way to get certification after high school. It takes about 1 to 2 years to complete the program, and you'll even get hands-on job experience.
Vocational programs
You can go for vocational programs post-high school to get the needed experience and skills. It takes about 1 to 2 years to complete this as well. After I began working as a mechanic, I still applied for a couple of vocational programs to get more experience.
Online training
To get familiar with the automotive world, you can sign up for online training. You get to understand the workings of automobiles before working on one. Online training might be educative, but it isn't sufficient to gain the needed experience. You need to work and train with an actual automobile to understand better.
ASE certifications
This voluntary certification can be attained via National Institute for Automotive Service Excellence. A single ASE certificate is sufficient to start working full-time as a mechanic.
ASE offers different kinds of certifications in numerous specialization and vehicle types such as 15 Automobile and light truck certifications, five collision repair and refinish credentials, nine medium/heavy truck certifications, three parts specialists certifications, eight transit bus certifications, seven school bus certifications, and three truck equipment certifications.
You could get a master's certification in the aforementioned certifications by attaining the required number of certificates. For instance, to become a Master Automotive Technician, you need to acquire eight certificates (A1-A8), and to retain the certificate, you need to be recertified after five years.
ASE certificates can be acquired after the successful completion of required tests. Therefore, regardless of where you trained, you can apply for a certificate. I currently own six automobile and light truck certifications.
What Are the Skills Needed to Become a Car Mechanic?
There are several needed skills you must possess to become a professional mechanic.
Communication
This is highly important. You will need to communicate with your clients' estimates for repair or maintenance, factoring in time, cost, and resources. You might also need to advise clients on the care of their vehicles and plan future maintenance sessions.
Organization
Records must be kept on the vehicles of each client. This accelerates jobs done within a specific time frame. Equipment and tools should be kept in order and properly stored to prevent mishandling and accidents.
Physical requirements
As aforementioned, mechanics tend to work in uncomfortable positions for very long periods. Therefore, you must stay active while working in an unfavorable position. Mechanics sometimes need to lift heavy parts of a vehicle while working; hence you should have the strength to lift the heavy load.
Is It Easy to Be a Mechanic?
Like every other job, it is not easy to become a mechanic. It takes time and effort. You must be willing to be committed to gaining the needed experience to become one.
Being a mechanic might even expose your health to certain dangers. Automobiles and vehicle components are complex machines that might harm you if precaution isn't taken. You will be working with foreign fluids all the time, including gasoline, diesel, chemicals, or fumes that might be dangerous.
They could enter the bloodstream through the skin and cause complications. You're also exposed to burns from hot surfaces or even acid from vehicle batteries.
Therefore, proper safety equipment must be worn, such as gloves, goggles, and masks when working.
Is Now a Good Time to Become a Mechanic?
According to an Automotive Service Technicians and Mechanics report by the U.S. Bureau Of Labor Statistics, it is estimated that the demand for technicians and mechanics is expected to decline by 4% between 2019 and 2029.
However, this covers all the industries and is not limited to car mechanics.
From personal experience, I have been as busy as I always have been.
It comes down to how well you are doing your job and how many clients you retain. Gaining the trust of your customers will pay off in the long term, as they will stay your clients for life.
Conclusion
The journey to being a mechanic is a thrilling and educative one. You're sure to enjoy it if you're a machine freak like I am.
The manual labor might be exhausting sometimes, but it's nothing a couple of stretches and a good rest won't fix. I became a car mechanic from passion and not only for the money. My passion for cars only made sense to pursue a career in this field.