When it is time for an oil change, car owners tend to go for both quality and economical oil brands. But is this feasible? Most motor oil designed for fuel economy often has questionable wear and tear resistance. Still, according to Jeff Hsu, Quaker State Technology Specialist, Quaker State Ultimate Durability "shows improved resistance to high-RPM and power-related engine stress, all while providing the unsurpassed wear protection our consumers are accustomed to, with the added benefit of fuel economy."
Today we are looking how well his claims stand and how does Quaker State oils compare to more expensive alternatives, such as Mobil 1 lubricants.
Is Quaker State A Good Oil?
Most car owners are looking for good motor oil that ensures the longevity of their engines, protects them from wear and tear, and helps the engine run at the right temperature. Poured by proud automobile owners since their first driveway oil change, Quaker state is a trusted name in motor oil industry that stands for durability and longevity.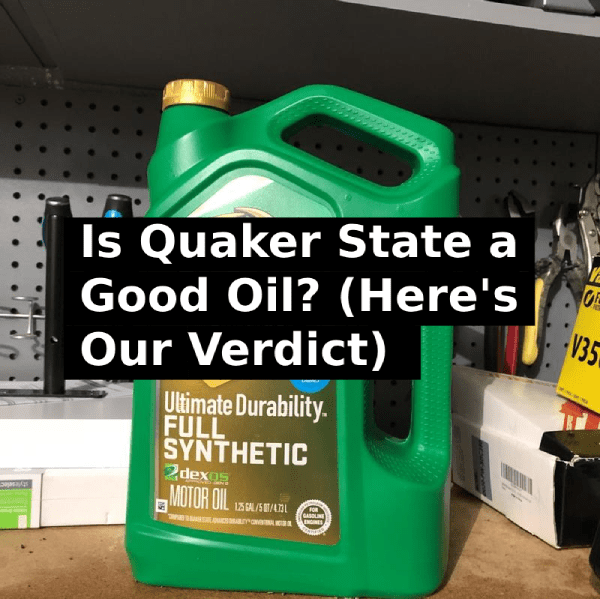 The brand offers top-quality oil, transmission fluid, brake fluid, gear lubricants, and more to help keep your vehicle running smoothly. Its conventional oil and blend are engineered to help give your car lasting power.
To a reasonable end, Quaker state oil is therefore considered very good and the right choice of lubricants for your vehicle engine. The public also prefers this brand as it prevents the formation of deposits detrimental to the engine and helps to conserve oil, unlike conventional oils.
Here's a peak at their current range of motor oils and the differences between each product.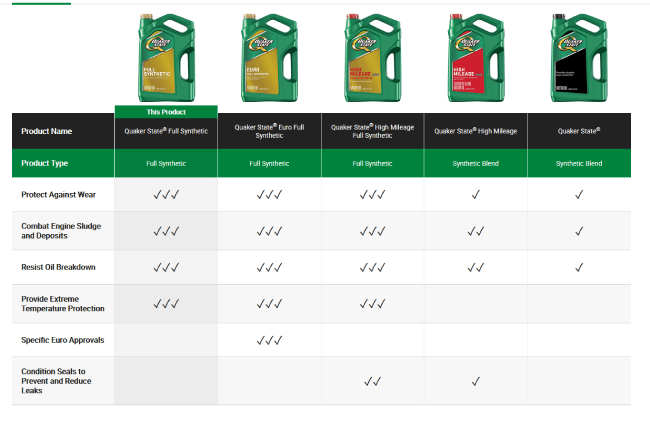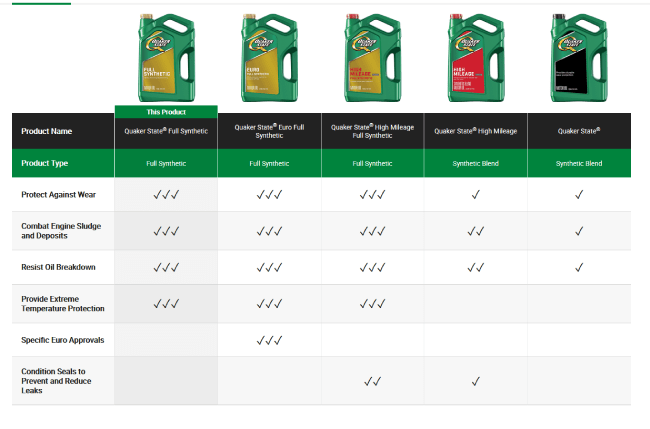 Who Makes Quaker State Oil?
Shell lubricants are known to be the makers of Quaker State oils, but this hasn't always been the case. In 2022, when Shell Oil Co. obtained Pennzoil-Quaker State Co. for $1.8 billion in cash and $1.1 billion in debt. The previous Quaker State Oil Refining Company had been formed in 1924, after the Eastern Refining Co. obtained rights to the Quaker State brand name.
The company, which had been formulating the Quaker lubricants since 1912, has earned their prestige in the U.S. after a deal signed with automotive manufacturer Franklin in 1914. In 1931, it became the "Quaker State Corporation" after merging with another 18 oil companies.
This said, Shell lubricants will continue to market and sell four top-selling motor oil labels for diesel engines: Shell Rotella T, Shell Rimula Premium, Pennzoil long-life heavy-duty engine oil, and Quaker State Universal HDX. This company has experienced rapid growth leading to its expansion in various sectors; refining, insurance, car maintenance, trucks, and energy.
Are Pennzoil And Quaker State The Same Oil?
Pennzoil and Quaker State oil are often mistaken as the same oil, but a few still argue that these oils are different. This is where the question comes on; are Pennzoil and Quaker State oil the same oil?
Technically, no, as they are two different products but under the same parent company. In 2002, shell procured the Pennzoil-Quaker state oil company in a proposal to become a leading oil brand worldwide. It markets Pennzoil and Quaker state as two different products. To be able to differentiate these oils from each other, let's consider a few of their distinctions;
Quaker State oil is a cheaper brand(budget-friendly) than Shell compared to Pennzoil, which is higher priced. This is due to the difference in its formulation.
Quaker State oil ensures protection against all contaminants that can lead to rust, while Pennzoil significantly lessens pollutants.
Where Is Quaker State Oil Made?
Quaker State, founded in oil city in 1931, was forced to move to the Dallas area because most of its operations are now in the southwest. The company newly obtained a specialty oil Cos. of Shreveport, La; and is in the process of acquiring slick50, a Houston-based maker of engine treatments.
How Many Miles Is Quaker State Full Synthetic Oil Good?
Quaker State Full Synthetic Oil is formulated for high mileage vehicles. This product helps protect vehicles for over 75,000 miles, which is only possible because it is formulated with additives that prevent wear experienced by high mileage engines in everyday driving. This oil also hinders leakage and ensures the conservation of oil.
Quaker states lubrication limited warranty does not dictate that customers must change their oil every 5,000 to 7,000 miles. They offer up to 300,000 miles or ten years (whichever is first) if you exclusively use Quaker state oil products.
Can I Mix Pennzoil And Quaker State Oil?
Quarter State oil can be mixed with Pennzoil without hurting your engine, only if it's something that is done occasionally. Although it's more complicated, it is advisable to use Pennzoil to top off Quaker State oil if the latter isn't readily available.
These different oils are scientifically formulated to fit different motor oil designs and help the engine run in similar but distinct ways. Mixing these two oils won't improve the engine's efficiency or the oil's performance. For more details about mixing different motor oils, check out our guide about mixing 5W20 and 5W30 oils.
Quaker State Full Synthetic Vs. Mobil 1
Quaker State Full Synthetic is formulated to render better cleansing and anti-weary ability with the help of heat-attracted additives. At the same time, Mobile 1 is aiming for a cleaner catalytic converter, particulate filter, and high mileage engines.
Quaker State's ultimate durability is designed for technologically advanced vehicles, SUVs, sports cars, and minivans and is also compatible with biofuel and hybrid vehicles. Heat-activated additives will kick in during high-temperature conditions to protect the engine's fuel economy and performance.
Mobil 1 is exclusively designed to be compatible with diesel particulate filters (DPFs) and Gasoline catalytic converters. Because it has a concentration of sin and phosphorus, which could harm the DPFs and catalytic converters, it slows down the oil-aging process, leading to longer oil change intervals.
Both motor oils are fully synthetic and made up of group (IV) base oil, formulated with additives to enhance engine performance and durability.
Engine seals protection
Mobile 1 is formulated with a seal conditioner, helping by preventing leaks and aids the conservation of oil and seal enhancer; it expands the seals to stop leakage. It has a base oil with a greater viscosity when compared to Quaker State, which helps prevent leakage and is heat resistant. This oil also contains anti-wear chemicals to protect the engine's metal parts from rusting.
Quaker State Full Synthetic is formulated with active gasket conditioning chemicals to prevent leakage, aiding seal flexibility to hinder oil drain and lower oil expenses in old and worn vehicles. This oil also contains base oils(synthetic) which lower the oil volatility resulting in oil conservation. Seal conditioning compounds help lubricate the seals, hindering them from becoming brittle.
Related content: Do Transmission Stop Leak Products Actually Work?
Minimizing wear on the engine
Mobile 1 High Mileage oil supports fast cold-weather starting, by preventing any damage that can result from idling, and an ultra-fast defense by providing an exceptional internal engine lubrication that is heat resistant (500 degrees Fahrenheit) and has low-temperature security (-30 degrees Fahrenheit).
Mobil 1 lubricants are formulate to prevent the engine from burning oil while idling. To assure the public that Mobile 1 High Mileage oils help render exceptional anti-wear services and protect the essential engine parts by lubricating them and preventing corrosion, this oil has undergone the industry-accepted Sequence IVA engine wear test.
Quaker State Full Synthetic helps vehicles endure daily travels-from reckless and excessive driving to frustrating idling in traffic, through viscosity sustenance and ensuring oil film safety. It is also formulated to resist sludge and residue in vehicles and protects against rusting generated by harmful chemicals yielded by engine impurities. Its zinc compounds have also been boosted to further equip it with anti-wear properties to deter wear that High Mileage Engines endure in daily commuting.
Is Quaker State a Quality Motor Oil?
Contrary to common belief, Quaker State oil is a high-quality full synthetic motor oil specially designed to ensure strong engine performance. Other cheap motor oils are often contaminated and damage the car's engine and other metal components.
Still, Quaker State Full Synthetic motor oil is designed to protect today's sophisticated engines, such as modern turbocharged engines. It also helps discourage sludge growth and components' degradation due to oxidation.
Closing Thoughts
Quaker State filters and lubricants are particularly formulated to ensure the longevity of car engines by decreasing oil loss due to evaporation and leaking oil gaskets. Considering its durability, it's the best; its excellent performance in cold weather is unmatched by any other engine oil on the market in its price range.
It accounts for a rest assured mind when on wheels, as many automobile companies regard it as the assured vehicle lubricant for the automobile engine. Quaker State oil wins the competition when we are talking about the best quality engine oil since it contains relatively high calcium as its primary cleaning detergent and ESP contains the least amount of cleaning detergents, and high mileage lies in the middle.