Good quality gas is essential for your vehicle's engine. Getting a membership at Sam's Club gives you unlimited access to their gas sold at a discount price.
You are entitled to know the quality of the gas you are buying. Therefore, the quality, source, and grades of the fuel sold at their stations should be known.
Sam's Club gas is of satisfactory quality, especially when considering the lower price. However, you need to keep in mind that most of their fuel stations are restricted to members only, which can be a disadvantage.
Is Sam's Club gas top tier?
Sam's Club gas is not a top-tier grade, but the Club assures its members of satisfactory quality. In fact, they assure their members a refund if the fuel purchased at the stations is not satisfactory enough.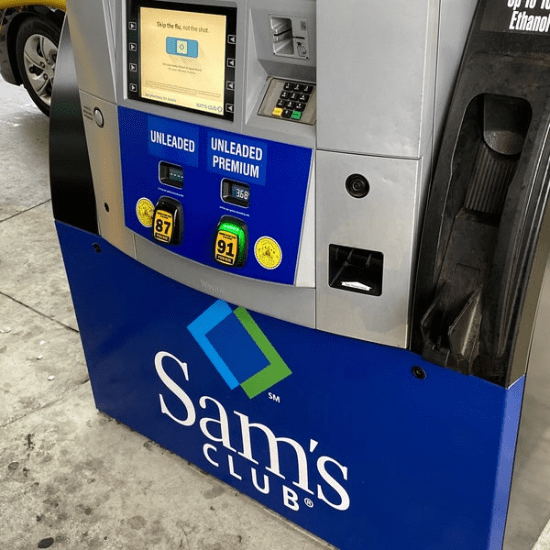 To properly determine the quality of the gas, you might want to know the source of the gas. Although the Club operates an unbranded fuel business and does not disclose the fuel's source, bear in mind that every gas station must obey specific guidelines set by bodies such as US EPA (Environmental Protection Agency) and NFPA (National Fire Protection Association).
Therefore, Sam's Club must obey minimum standard guidelines to remain in operation.
Related content: Is 76 Gas Good? Answered
Rumors and reports suggest that Sam's Club gets its gas from certified top-tier brands such as Shell, Chevron, and Mobil. Since the claims are not verified, members can only trust the complete satisfaction guarantee and a refund if any issue arises.
Does Sam's Club gas have additives?
Yes, Sam's Club gas has additives, but their detergent additives are not as high as top-tier gas. The company boasts high-quality gas that will surely satisfy its members, and a refund is assured in cases of complaints.
Which gas is better, Costco or Sam's Club?
There are different aspects to consider before determining which gas is better between the two companies. Costco is publicly traded, while Sam's Club is a subsidiary of Walmart. They are very popular retail wholesalers with cheap gas accessible by their members.
Price
Although Sam's Club sells gas at a discount price which is generally around the average price of gas nationwide, it is still yet to compare to Costco in terms of price. Costco gas is one of the cheapest in the country, attracting a long queue of consumers that can bear the wait.
Despite being of high quality, the brand works hard to keep the prices of its gas at a lower price compared to its competitors. However, it is vital to note that Costco can only offer gas at such low prices because they charge their members separately. Thereby indicating that only brand members can purchase fuel at their stations.
Related content: Is Wawa Gas Good? Answered
On the other hand, Sam's Club gas is also made available to non-members. Buyers with the accepted payment mode are eligible to purchase gas at selected Sam's Club stations.
Hence, if you intend to purchase gas at a local Sam's Club station, make sure the station is beside a Walmart store or is one of those required by law to be made public.
Access
Costco's gas is only accessible by members of the company. Meanwhile, Sam's Club gas is accessible to consumers who are not members of the Club. However, most of their stations are member restricted, and only a few are made available to the public.
Top tier grade
The top-tier grade is another important quality to consider. Some consumers do not consider this as long as they get quality gas, while others do. Why is top-tier gas rated so high?
Top-tier gas contains additional detergent additives that boost the cleaning power of the fuel, ensuring that your engine and its parts stay clean as the fuel burns.
Sam's Club gas is not top tier, while Costco's Kirkland Signature gas is a certified top tier brand. Hence, according to the standards put in place by US EPA, Costco's gas contains about five times more detergent additives than regular gas.
In terms of quality, Costco's gas is top-tier grade, while Sam's Club gas is backed by the company's Satisfaction Guarantee.
Meanwhile, looking at the pricing of both companies, they both charge similar rates. Costco charges cheaper fuel fees but higher membership charges, while Sam's Club charges higher fuel fees but with lower membership charges.
Related content: Is Marathon Gas Any Good? (Explained)
What octane is Sam's Club premium?
Sam's Club offers a premium grade gas of 91 octane, which is a bonus for your car. Why choose premium gas for your vehicle? If you drive a luxury or high-performance car, premium gas of high-octane power prevents knocking and ensures a smoother drive. It also ensures higher mileage per gallon while reducing the number of emissions.
If your engine is of average performance, you do not necessarily have to get premium gas. However, if your engine is a high-performance engine, using low octane gas could hurt the engine over time. Excessive knocking would occur, and the engine would not perform at its peak.
Related content: Is Circle K Gas Good? (Answered)
Do you get better mpg by using Sam's Club gas?
High-quality gas gives better mileage than average quality gas. You can switch the gas grade you fill to get higher mileage per tank.
Premium gas gives higher mileage than regular and mid-grade gas. Since Sam's Club provides high-quality fuel, you might get better mileage compared to average quality gas and consistent mileage compared to top-grade fuel.
Related content: Is Kroger Gas Any Good? (Answered)
Conclusion
Sam's Club is a part of the Walmart family, which supplies gas to its members at a discount price. Although the gas sold at Sam's Club is not rated top-tier grade, the company places its consumers' satisfaction as a priority by promising to refund unsatisfactory purchases. Sam's Club gas is an excellent option for your car and your budget if you desire high-quality gas at an average price.
Since cutting ties with Murphy USA in 2016, Walmart has provided no further information about its gas source. However, we can be sure that this long-standing company has a standard additive formula and verification process to ensure that its gas is in line with laid down standards.
Sources
Sam's Club Fuel Center Details