I looked across at James as his enthusiastic smile turned into a scowl. He turned his nose away in disgust and passed the promotion letter he had just finished reading to me. Three minutes later, I understood his repugnance.
We never really were happy with our pay, but we kept working at this auto-repair shop because we held on to the irrational hope that things would pick up at some point. In my hand, I had a letter of promotion which, while promising a 10% increase in income for him, didn't change much at all.
He noticed I had finished reading and asked, "We're quitting, right?". I replied, "Yeah." We walked away. We never looked back.
As a mechanic, there would be a point in your career where you ask yourself, "Is this worth it?". Clocking around 50 hours a week and hoping to be paid for just 40, slaving all day for customers, and a boss that does not respect you can be annoying.
Lucky for you, if you're smart enough to be a good mechanic, you are smart enough to find a better deal anywhere else. That's why you're reading this now. You've taken the first step. Good for you.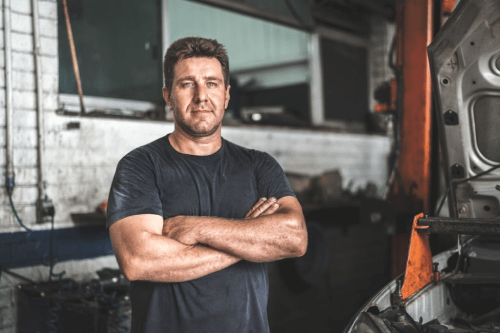 Alternative jobs you can do as a former mechanic
If you leave your job as a mechanic, the chances are that you are looking for better pay with better working conditions, with an employer that treats you well. It will also make sense if you are not quitting entirely, i.e., getting a job that would supplement your actual earnings as a mechanic.
Both scenarios are promising but require extensive consideration of your options. The most important thing is to consider (if you have a degree) the paths you can take with it.
| Job name | Transferable Skills | Average Salary in the US |
| --- | --- | --- |
| Technician Supervisor | Communication, leadership, attention to detail, supervisory skills, computer literate | $74,549 |
| Maintenance Inspector | Attention to detail, critical thinking, and problem-solving | $46,287 |
| Automotive Sales Manager | Communication, computer proficiency, automobiles knowledge | $70,967 |
| Truck Driver | Communication, attention to detail, problem-solving | $77,255 |
| Aircraft technician | Communication, computer proficiency, attention to detail | $51,834 |
| Auto Repair Shop Owner | Communication, problem-solving, attention to detail, computer proficiency & leadership | $50,000 |
All figures show the average salaries as of 2022
Our readers also enjoyed: How Long Does It Take to Become a Car Mechanic?
Open Your Own Auto Repair Shop
Graduating from mechanical engineering gives you leverage to work in the mechanical design industry, the aerospace industry, the thermal sciences, etc. If you don't, there are still career options that would help you better. The first thing most mechanics do is to open their own repair shops.
How do I open my own shop?
Opening a new mechanic shop requires a considerable deal of commitment and time. Nothing good ever comes easy. You have to put in the work for it to yield results. In opening your own repair shop, you need to do each of the following:
Planning
Planning is the first stage of the execution of an idea. You can never go wrong with it. This is the process through which your draw up projections on how you want your new business to be run. Before getting into anything, various questions should be asked and answered (never wing it!!!).
A few of the questions that should be asked include the amount you will invest in the process, the number of customers you are expecting, the amount you expect to charge, if you are going to specialize or not, etc. Asking these questions of yourself gives you a solid plan to follow.
Getting certification
This is relatively important. There are no real laws mandating that repair shops require certification to open. However, access to liability insurance could be tautened without the ASE certification because of higher prices. It is therefore advisable to get it. ASE certification required two years of learning and a year of working.
Draw up a budget
For this, you have to consider a lot of factors. We wouldn't even bother to sugarcoat it; you will spend a lot. Between getting certification and equipment, insurance, and employment, a lot would have to be invested in to make it a reality.
Be prudent with the selection
You would have to play it smart, selecting your location and the people who will work for you. A choice location is around a residential area in a city or town. For the people, you will have to make sure that they are competent.
Advertise
This is a no-brainer. The advertisement tells the world that you have decided to open your own venture and are ready to start accepting customers. You could buy ad spaces or newspaper slots to help.
These are other jobs to consider if opening up a new shop does not appeal to you.
Our readers also enjoyed: Can You Trust a Dealership Mechanic?
Technician supervisor
This person acts as an administrator over a group of technicians that focus on the maintenance and functionality of a specific company's buildings. Mechanics that have quit their careers would find this easy to do since they have the technical knowledge of maintenance. The pay is good, and you also get to be the top dog (at least of your team).
Technician supervisors are responsible for the daily operations of a team of technicians. This includes assigning tasks, monitoring progress, and meeting quality standards.
They also train new technicians and provide feedback to improve performance. In some cases, they may also be responsible for troubleshooting issues that arise during production.
Technician supervisors must have excellent communication and organizational skills to manage their teams effectively. They should also be able to work well under pressure and meet deadlines. A background in mechanical or electrical engineering is helpful but not required.
Maintenance inspector
As a former mechanic, you would be familiar with the inner workings of many machines and understand how they work. This is why this job would be perfect for you. The work here is to inspect various machinery for specific organizations. You can either be the inspector for one company or run a sort of freelance gig in this job.
As a Maintenance inspector, you will be responsible for ensuring that all maintenance activities are carried out in accordance with regulatory requirements and company procedures.
You will carry out inspections of equipment and systems and report any defects or irregularities to the relevant authorities. You will also maintain records of all maintenance activities and advise maintenance staff on best practices.
In addition, you will liaise with other departments within the company to ensure that all maintenance activity is coordinated effectively.
This is a highly responsible role that requires a good knowledge of regulatory requirements and engineering principles. A successful Maintenance inspector must work effectively under pressure and have excellent communication and problem-solving skills. If you have the required skills and experience, then we want you!
Automotive sales manager
If you spend a lot of time working on cars, you know a lot about cars and the types of products that appeal to the market. This is why you would make a great automotive sales manager, a job where you essentially manage a team of salespeople who work to sells vehicles and other products to other people.
An automotive sales manager oversees all aspects of the sales department within an automotive dealership.
They set goals and quotas for the sales team, monitor performance, and develop strategies to increase sales. They also work with customers to identify their needs and find the right vehicle. In addition, an automotive sales manager may be responsible for hiring and training new employees and developing and implementing policies and procedures.
The skills required for this position vary depending on the employer. Still, some key qualities include strong leadership skills, excellent communication and negotiation abilities, and deep knowledge of the automotive industry. An automotive sales manager must also work well under pressure and handle multiple tasks simultaneously.
Truck driver
Truck drivers play an essential role in the economy by transporting goods and materials to various destinations. They may be responsible for loading and unloading cargo, ensuring that necessary documentation is complete, and obeying traffic laws. Drivers may also need to maintain their vehicles and report any mechanical problems.
The national average pay for truck drivers is pretty good. You are also basically just driving trucks, locating cargo for your employer, and ensuring the cargo is loaded and unloaded. You might also need to make some minute repairs on the truck before starting your journey. The fact that you were a mechanic helps you in this.
The work of a truck driver can be demanding and challenging. Drivers must be able to work long hours, often away from home. They must also be capable of driving for extended periods and dealing with difficult road conditions.
Truck drivers are typically paid by the mile, so they must keep a careful log of their miles driven. This helps ensure that they are compensated fairly for their work. Truck drivers typically enjoy good working conditions and benefits like health insurance and retirement plans.
If you are interested in becoming a truck driver, you will need to obtain a commercial driver's license (CDL). You can typically earn this license by completing a training program at a truck driving school. Once you have your CDL, you will apply for jobs with trucking companies.
Aircraft technician
An aircraft is not much of a far cry from a car. You need to adapt to working on a machine that takes a much grander scale. You definitely would find this easy, and the pay is good too.
Before finally leaving your career, the best thing to do is to make plans for every eventuality before you eventually leave. Once you do that, the world is your oyster, and you are capable of switching to most technical jobs, provided you go about them well.
An aircraft technician is responsible for the maintenance and repair of aircraft. They perform scheduled maintenance and repairs and troubleshoot and resolve issues with aircraft. Aircraft technicians may work in various settings, including airports, hangars, and flight schools.
The duties of an aircraft technician vary depending on their specific job role but can include inspecting aircraft, repairing aircraft components, and conducting test flights. They may also be responsible for maintaining records of aircraft maintenance and repair. Aircraft technicians must have a strong understanding of aviation regulations and safety procedures.
Although some jobs may require postsecondary education or certification, aircraft technicians typically need to have a high school diploma or equivalent. Many aircraft technicians receive on-the-job training through apprenticeships or other training programs.
The job outlook for aircraft technicians is positive, with projected job growth of 6 percent from 2016 to 2026. Aircraft technician jobs are often highly specialized, so those with the necessary skills and experience should have no trouble finding employment. Salaries vary depending on the employer and location, but aircraft technicians typically earn between $30,000 and $60,000 per year.
In Summary
As you might see, there are various job positions you could fill if working as an automotive mechanic has taken its toll on you. You can either pursue another career in the auto industry or switch to a different sector.
As some mechanics get older, they decide to switch to a more managerial position to make use of their years of experience much better.