You must have seen an SR5 logo on the back of certain Toyota cars and left you wondering what it means. If you start from the start, then SR5 basically stands for sports rally 5 or sports runabout 5.
Cars with SR5 badging were introduced in the mid-70s to project a specific trim of light trucks.
In SR5, S is included to indicate the sporty features of cars with this logo. R is usually included to represent the high speed of a vehicle, literally meaning a ray of light. But here, R also represents the code of the Toyota engine included in cars with the SR5 logo. 5 generally hints at the 5-speed transmission of the vehicle.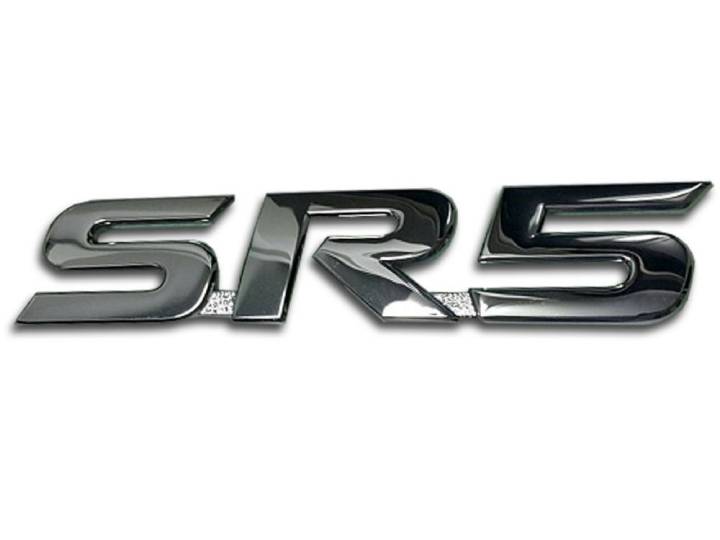 One thing you must keep in mind is that the SR5 logo is not specifically attached to any car. Whether it is the Hilux, Tacoma, or any other model of Toyota with an SR5 badge. It only represents the super sporty trims of these light trucks.
Further in this article, we will see in detail what other things are included in the SR5 package and compare it to different trim levels.
Related: What Should I Do If Gear Shifter Moves but Doesn't Change Gears?
What is the First Car Offered Under the SR5 Logo?
The second generation of the Toyota Corolla was the first car that was offered under the SR5 logo. This generation of Toyota Corolla was produced between 1970 and 1978. In 1973 and 74 Corolla SR5  Coupe model was introduced in the market.
It had a unique design and a healthy 1.5L engine mated to a 5-speed transmission.
The purpose of this trim was to attract a new lot of buyers towards Toyota. However, it couldn't reach its target. Hence it was discontinued soon after its production started.
That is why you would not see many people mentioning Corolla as the pioneer of SR5 in Toyota. Other trucks are cited as the first cars to be offered under the SR5 trim.
The fourth generation of Toyota Hilux is also widely believed to be the first car that was offered under the SR5 logo. In 1979, Toyota Hilux was given an upgrade to amplify its off-roading capabilities and combat steeper slopes.
It was around the same time when Toyota produced its one millionth truck. So, SR5 was seen as a sign of legacy!
People think that Tacoma or Tundra were the first cars introduced by Toyota under the SR5 logo.
This isn't true since the term SR5 was designed to represent high-performance vehicles in the early '70s, and these models weren't even available in the market around that time. So there is no question of these models being the first cars offered under the SR5 trim.
What is Usually Included in The SR5 Package?
Since the SR5 package is offered as base trim, there isn't a lot that is being provided in terms of features. SR5 is fitted with a standard 4L V6 engine that is capable of churning out 270 horsepower. It is mated with a 5-speed transmission with a part-time 4WD function.
The base trim of the Toyota 4Runner, SR5, is available at the minimum price of $38,020.
A 2021 4Runner SR5 has fog lights, 17-inch alloy wheels, skid plates, 8-way power-adjustable driver seat, a leather stitched steering wheel, fabric seats, and standard features such as Apple CarPlay, Android Auto, and voice recognition.
Like all other Toyota models, SR5 includes advanced safety equipment and features. These include forward-collision warning with pedestrian detection, automatic emergency braking, adaptive cruise control, automatic high beams, lane departure warning, a rearview camera, and multiple airbags.
What is the Difference Between TRD And SR5?
The basic difference between the two is that SR5 is the base trim. However, TRD is the top-tier trim. Due to this, there are certain differences between performance specs and features also. The key differences between TRD & SR5 are:
TRD has a distinct look with a hood scoop and larger wheels.
SR5 has an I4 engine mated to RWD or part-time AWD and TRD has a V6 engine.
Tow ratings of SR5 & TRD are 3,500 & 6,800 lbs respectively.
SR5 has a basic infotainment system with 6.1 inches display and it has all standard features including GPS, Bluetooth, and audio streaming.
On the other hand, TRD is jam-packed with features that include a spilt-enabled touch screen, blind-spot warning, and rear-cross traffic alert.
Does SR5 Premium Have Remote Start?
It might depend on the model of SR5 you're using. In some of the later models, remote start is added as a standard feature. However, in older models, it didn't come as part of the package. You would have to pay extra during customization to add remote start in SR5 & SR5 Premium trims.
Limited and TRD Pro Max trims have remote start installed from the factory. Some of the distinguished features of SR5 premium include cloth seats stitched from synthetic leather upholstery. These seats are also multi-way power-adjustable.
Related: Why Does My Car Feel Like It's Floating?
Does SR5 Premium Have 4WD?
SR5 & SR5 premium don't have a full-time 4WD drivetrain. It offers an even better part-time 4wd functionality, which you can engage according to your need. SR5 premium has three driving modes. Two of these modes can be used to engage the 4wd function.
One of those is the 2-high mode in which regular rear-wheel drive is engaged. Then comes the 4-high mode, which has the regular all-wheel-drive function.
At last, another mode is offered to maximize the traction and multiply torque, which is called the 4-low mode. It helps you in crossing challenging dunes and ditches.
SR5 & SR5 premium are offered as base trims. So, 4WD does not come as standard in either of these models.
Many modern-day light trucks are provided with front-wheel-drive powertrain, but that is not the case with SR5 premium. Instead, they are offered with a rear-wheel-drive powertrain.
If you see that, it is a plus point to have a rear-wheel drivetrain. It enables SR5 models to tow and carry larger weights as power is directly transferred to the rear wheels.
References