Trucks are a lot more popular now than they used to be. Despite the rave about the climate, trucks have become quite popular among young millennials. About 35 percent of truck purchases are made by millennials, while Gen Xers and Baby Boomers account for 26 and 29 percent, respectively, according to this report.
Obviously, the reason why so many people are interested in trucks differs depending on who you ask. Some prefer it because it is practical, relatively affordable (considering its many uses), and perfect for offroading. For others, the reasons are far from practical ("trucks make you look cool") but…whatever works, right?
So whether you want to get a truck for a practical reason or because it makes you "look cool," you might find yourself wondering which is the right type for you, a double cab or a crew cab. Here's the difference.
Single, Double, and Crew Cab, What Do They Mean?
The word "cab" used in identifying the different models of a truck is just a shorter word for "cabin," which refers to the compartment of a vehicle that houses the driver and other occupants. Both the double cab and crew cab trucks have four doors and four seats in the cabin, two front seats, and two rear seats. For comparison, a single cab truck is one with just one set of doors and one set of seats in front. The single cab design offers more cargo space than both the double and crew cab designs.
This makes them ideal for business operations that require conveying goods. However, they come with relatively smaller cabins, While the double and crew cab trucks are now generally accepted as "family cars" mainly because the cabins are more spacious and the cargo space is just perfect for a small family trip, a picnic or an offroad adventure. . The Toyota Hilux, Isuzu D-max and Nissan Navara are some examples of double cab trucks. You can get the crew cab with the Toyota, Chevrolet, and GMC brands.
What Is the Difference Between the Double Cab and the Crew Cab?
The difference between the double cab and the crew cab is in their size. Although they have the same number of doors and sets of seats, the crew cab is more spacious than the double cab. So there is more headroom and leg space in the rear compartment.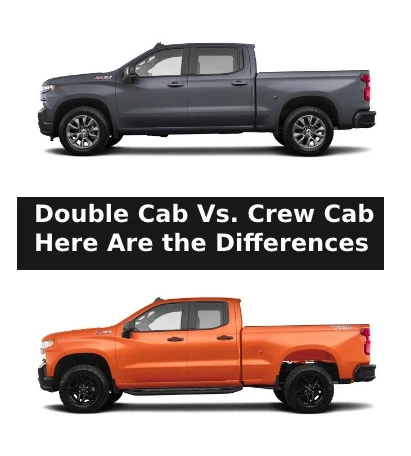 If you are trying to make a choice between either one, it is good to consider how many people or, more importantly, how comfortable you want them to be. Both double cab and crew cab can seat up to 6 people (two in front and four behind). But your passengers will be less comfortable in a double cab as compared to a crew cab.
How Do I Know If My Truck Is a Double Cab or a Crew Cab?
The easiest way of knowing if you have a double cab or crew cab truck is by looking at the rear doors. Double cab trucks have smaller rear doors, while crew cabs have regular-sized doors. Although having a door is much better than not having one (like in regular cab trucks), the smaller doors make getting into the rear seat difficult.
So if you've had people complain about how cranky they felt either while getting into the rear seat or after sitting for a while, chances are that you've got the smaller double cab truck. Another way of knowing you have a double cab truck is by how easy it is to park in the reverse. Because of their size, it is a lot harder to reverse a crew cab truck into a parking spot. The difference in size becomes apparent to someone who is used to driving a double-cab truck.
How Much Bigger Is a Crew Cab Than a Double Cab?
By now, you already know that the crew cab is bigger than the double cab. The question is, by how much? To answer this, I will be using the Chevy Silverado as a reference. The 2022 Chevy Silverado is available in both double cab and crew cab designs. The front headroom and legroom are the same for the double cab and crew cab.
The front headroom measures 43.03 inches, while the front legroom measures 44.53 inches. The rear headroom and legroom of the double-cab Chevy are 39.88 inches and 40.12 inches, respectively. While that of the crew cab are 40.12 inches and 43.40 inches, respectively. As you can see, the main difference is in the rear side of the cabin.
The crew cab has an extra 0.24 inches in headroom and an additional 3.28 inches of leg space. The values may seem small, but in reality, these extra inches translate to more head and leg space that gives the crew cab its reputation.
Which Truck Has the Largest Crew Cab?
Since most truck customers are vying for bigger and more spacious crew cabs, several car manufacturers are stepping up to satisfy this demand. This means there are so many crew cab trucks to choose from, all of which come in different designs, shapes, and sizes.
Speaking of sizes, some car companies are taking things up a notch, with mid-size trucks offering more headroom and legroom than ever. To accommodate the new design, a subclass was developed, and that's the super crew cab. It goes without saying that these are the biggest and most spacious crew cabs you can get.
The top contenders in this category are the 2022 models of the Ford F-150 Supercrew cab, the Chevrolet Silverado, and the GMC Sierra. Both crew cabs offer ample headroom and legroom than any other truck in the category. However, the Ford F-150 Supercrew cab has more legroom in the rear than the Chevy and Sierra, as seen below.
| | | | |
| --- | --- | --- | --- |
| | Chevrolet Silverado | GMC Sierra | Ford F-150 |
| Front Headroom | 43 Inches | 43 Inches | 40.8 Inches |
| Rear Headroom | 40 Inches | 40 Inches | 40.4 Inches |
| Front Legroom | 44.5 Inches | 44.5 Inches | 43.9 Inches |
| Rear legroom | 43.4 Inches | 43.4 Inches | 43.6 Inches |
Do Crew Cabs Have Shorter Beds?
All trucks come with either of these three bed sizes, short, standard, or long. Short beds are usually within 5.8 inches, Standard beds are about 6.5 inches in length, while long or extended beds can reach up to 8 inches in length. The actual sizes may vary depending on the manufacturer. Short beds have the advantage of making the truck compact and maneuverable. They are perfect for those with smaller parking spaces and minimal haulage. The long or extended beds are perfect for most hauling needs, and they are designed to carry more weight. This is why they are often used in commercial settings.
However, for an individual, the extended beds may be overkill. You don't want your truck sticking out of the garage. Parking in tight spaces is also a lot harder with the extended beds. The standard bed is a compromise between the short bed and the extended bed. It's long enough for most hauling needs, short enough to fit in tight spaces, and easy to maneuver.
Most crew cabs come with either a short bed or a standard bed. Crew cabs are already very large, and an 8-inch bed would make it almost impossible to drive comfortably. The best fit for their size is either a short bed or a standard bed. Crew cabs with standard beds are nearly identical (in terms of final length) to a regular cab (single set of doors) with a long bed.
Related content: What Is the Back of a Truck Called? Here's The Answer
Can a Crew Cab Have a Long Bed?
Yes. Some crew cabs do have long beds. An example is the Ford Superduty F-250 series. It has a total length of 266.2 inches, rear legroom of 43.6 inches, and comes with the 8 inches extended bed. Another car brand that has a crew cab with long beds is the Chevy.
The Chevy crew can models with long beds are the Chevy Silverado 2500 HD and 3500 HD. Each of these models is at least 266 inches in length and comes with the 8 inches long beds. The Chevy is a few inches shorter than the Ford, and that's because it has rear legroom of 43.4 inches. Overall, these two car brands are in the super crew cab category and still rock the long beds.
Is a Crew Cab with a Long Bed Worth the Extra Money?
Yes, if you have a lot of hauling to do. Otherwise, you may be better off with the standard bed. The same goes for the resale value of the car. How much you can get will depend on what's more important to the buyer, is it the long bed space or the comfy design of the crew cab?
According to consumer reports, crew cabs with shorter beds are becoming more popular, and this is because they are "family-friendly."
In Summary
Double cab or crew cab? Both are great choices, and you can get either configuration from well-known brands like GMC, Toyota, Ford, and Nissan. The main difference between the double cab and the crew cab is the size.
If you are in the market for one of these, then this article is all you need to decide which option to go for. Knowing fully well the tradeoff that comes with choosing either the double cab or the crew cab.