Gas is very important to vehicle owners. Without gas, the vehicle is more of an accessory than a working machine (with the exception of diesel, electric, or hybrid cars). However, the sort of gas purchased for use is crucial because the composition and additive content might affect your engine more than you realize.
Marathon gas is a common brand you might see at your local filling station or when going out on a long drive. Is the gas good enough for your car? Does it contain sufficient detergent additives for your engine?
So, how good is Marathon gas?
Marathon gas is a cheaper alternative to more premium brands, like Shell, however, their top-tier certification indicates their gasoline might be as good as the one from premium gas stations.
They have partenered with STP in 2006, a premium brand in the fuel additives world. Although they might not advertise their fuel as much as 76 Gas, they do go well above the minimum EPA requirements.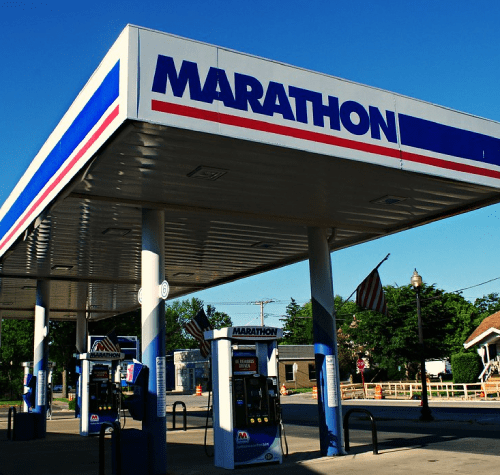 Is Marathon gas Top-tier?
Marathon gas is Top-tier certified, which helps reduce fuel consumption and emission. This implies that Marathon gas meets up to the premium requirements set by vehicle manufacturers for Top-tier gasoline.
All gas has detergent additives as per EPA minimum requirements. However, the content of detergent additives in Marathon gas is higher than the bare minimum, and it is its high detergent content that makes it Top-tier. It is capable of keeping engines in a cleaner state than regular gas.
Does Marathon gas have additives?
Yes, Marathon gas has detergent additives to grant it cleaning abilities, thus, keeping your engine running smoothly and free from accumulation of debris.
'Why does your gas need detergent additives?' you might wonder. As the engine burns fuel for the movement of the vehicle, debris is formed in the process. If the debris is not cleaned up, it accumulates and affects the overall performance of the engine.
The fuel economy is affected, and you might experience higher carbon emissions, rough idling, and sometimes even lose horsepower.
The detergent found in Marathon gas is a greater level of STP additive, hence, giving the fuel more cleaning strength.
Is Marathon gas the same as Speedway?
Marathon gas was formerly the parent company of Speedway. Speedway was affiliated with Marathon gas for over fifty years, initially a subsidiary of Marathon Oil, then became a subsidiary of Marathon Petroleum in 2011.
However, after over half a century together, Marathon announced in late 2018 that Speedway would be an independent company by 2020. However, in February 2020, this plan took a different turn when Seven and I Holdings proposed to buy Speedway for $22 billion.
The plan was temporarily abandoned due to the effect of the pandemic on the economy.
The plan was eventually revisited in August 2020 Marathon made a public announcement of the sale of Speedway to Seven and I holdings for $21 billion. Although the Federal Trade Commission kicked against this trade, the deal was finalized on May 14, 2021.
Therefore, officially, Speedway is no longer the same as Marathon Petroleum Corporation.
Where does Marathon get their gas from?
After the cease in oil purchases from Russia, Marathon gas had to get their oil from elsewhere. When Russian products were initially banned, oil buyers had to get their oil from the US reserve.
However, the oil is not easily accessible to most buyers, Marathon included. Therefore, they had to buy from a more accessible point.
This led to the new deal with Ecuador's state oil company, Petro Ecuador. Starting from July 2022, Marathon will receive two monthly deliveries from the company till May 2023.
Does Marathon gas come from Russia?
Marathon gas used to get their oil from Russia. In fact, they were formerly the biggest US buyer of Russian oil, purchasing about 13.9 million barrels in 2021.
However, due to the ban on transactions with Russia because of the Russian-Ukrainian war, Marathon currently get their gas from Petro Ecuador.
Is Marathon gas ethanol-free?
Marathon petroleum produces both ethanol-free gas and ethanol gas. The non-ethanol gas variant is not available at all gas stations but can be found in some. Consumers report purchasing octane 89, 90, and 91 ethanol-free gas at Marathon gas stations.
Why go for Marathon ethanol-free gas? Although ethanol gas has a higher popularity record, ethanol-free gas is still preferred by some consumers.
Older car owners might prefer to use the non-ethanol variant. The same applies to lawn mowers or boat owners. One of the major buyers of ethanol-free gas is motorcyclists.
Manufacturers even recommend motorcycle owners fill their tanks with the non-ethanol gas variant.
Where can I use my Marathon card?
Marathon provides two types of gas cards (fleet and universal) that can be used at any Marathon gas station across the country. Interestingly, the universal card can be used at up to 95% of gas stations in the US. Rebates (about 7 cents) are given on the use of the cards at over 500 Marathon locations.
This implies that even if you can't locate a nearby Marathon station, you can still fill your tank using your Marathon gas card at another filling station – if payment is acceptable.
Using the Marathon gas card makes you entitled to automatic reports and detailed accounting statements on every purchase.
The information recorded includes sales tax, the amount paid, car ID, fuel grade, and other information, thereby giving an easy record on your mobile phone without the need to track down different printed receipts.
The brand also provides gift cards that can be used to purchase gas, food, and other items at a Marathon gas station. However, the gift cards cannot be used for the lottery, additional gift cards, money orders, or to redeem cash.
Make It Count rewards program
Marathon launched a new rewards program, allowing customers to save 10 cents per gallon on their first four visits and 5 cents per gallon thereafter. It is a nice saving, especially considering the new increase in fuel prices.
Besides the fuel price savings, you will collect points that can be turned into various rewards. For more information, you can visit their website.
Conclusion
The Ohio-based gas brand is a certified Top-tier gas with STP additives which guarantees a cleaner engine with each drive. Marathon gas is available in regular, plus, and premium grades.
The petroleum company also produces a non-ethanol gas variant which comes in handy for boat and motorcycle owners. High-quality diesel, lubricants, and renewable fuels can also be gotten from the company.
The brand provides gas cards that can be used at Marathon locations as well as other gas stations across the country. The cards offer rebates that help you save money while still awarding you the flexibility to fill your tank anytime at any station of your choice.
If you found this article helpful, our team assessed other gas stations fuel's quality too:
Is Circle K Gas Good? (Answered)